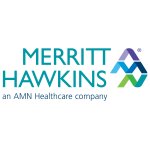 Merritt Hawkins
Merritt Hawkins
Leaders in Physician Placement

Merritt Hawkins & Associates leads the physician search industry in all significant categories, including:

* Number of permanent physician jobs.
* Number of physician placements.
* Annual revenue.
* Number of professional endorsements.


Leaders in Physician Recruitment

Merritt Hawkins & Associates is proud to be recognized as a national source of physician recruitment expertise by publications including The Wall Street Journal and Modern Healthcare. At the forefront of physician recruiting trends, our original data and analyses are used as national benchmarks in areas such as:

* Physician compensation and recruiting incentives.
* Inpatient/outpatient revenue generated by physicians for hospitals.
* Practice preferences of medical residents.
* Practice patterns of in-practice physicians.
* Demand for physician services.
* Community physician needs assessment.
* Compliance with federal physician recruiting regulations.


Whether you are looking for healthcare employment opportunities or help with your recruitment efforts, Merritt Hawkins & Associates is happy to assist.
Dallas

,

United States
Dallas

,

United States
Company Information
Industry Leading Physician Recruiters

Merritt Hawkins is the nation's premier permanent physician search and consulting firm. As the industry leader, our mission is to create enduring permanent matches between healthcare organizations and providers seeking to enhance their professional and personal lives. We also place allied health professionals in select disciplines.
Company History
Why Choose Merritt Hawkins?

What puts us above other physician recruiters is our:

* 20 plus years of vast, industry-leading experience.
* Reputation as the established leader in permanent physician search.
* Proven, innovative, consultative recruitment approach.
* Commitment to client service and satisfaction.
* Ability to provide important data to the industry.
* Dedication to educating physician recruiters on healthcare staffing issues and challenges.
No job openings
---