Categories
Recent Posts
Popular
Most Popular
5 Emerging Trends in Dentistry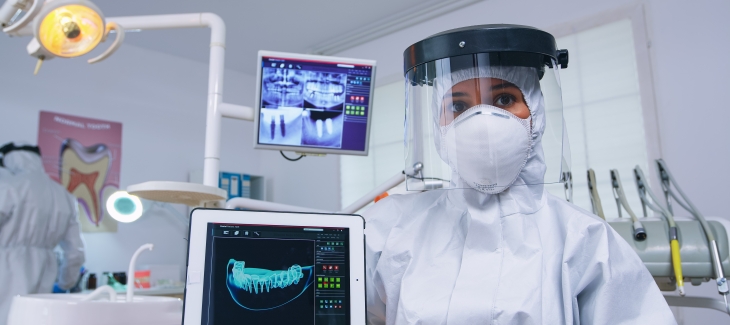 Today three-dimensional images of teeth and surrounding tissues are possible with much less radiation. The history of dentistry tells the story of a profession whose goals have always been to eliminate dental disease and treat patients as safely and conservatively as possible.
The five emerging trends in the dentistry described below continue toward these goals as the field enters a new decade of excellence.

1. Artificial intelligence

You ask Alexa for the news as you drink your morning coffee. You board your Tesla Model Y and initiate the advanced autopilot feature. You ask Siri to text your receptionist and tell her you will be five minutes late to the office. Alex, Tesla, and Siri and well-known examples of the daily use of artificial intelligence.
Artificial intelligence (AI) makes your life easier in these ways before you treat your first patient. But did you know that AI can now help you make a
better-fitting crown
or find the elusive apex on the MB root of a maxillary second molar?
Robots will never replace dentists, but AI will continue to make significant advances in dentistry. This technology will make dentistry more enjoyable, more precise, and more comfortable for the patient.

2. 3D Printing

A few dentists used 3D printing to treat patients with cleft palate in the 1990s. Today its use is spreading widely and rapidly in all aspects of dentistry. Three-dimensional printers are becoming as commonplace in today's dental offices as autoclaves and handpieces.
One of the most common applications of 3D printing is the production of crowns. This technology makes treatment easier, faster, more precise, and more acceptable to the patient.
Implant dentistry continues to grow and offers patients many options that were not available just a few years ago. Three-dimensional printing allows dentists to perform implant surgery faster and safer with custom-designed surgical guides created to exact specifications.
Researchers are currently studying the use of
3D printed braces
that incorporate an LED light on each tooth. The goal is to straighten and align teeth quicker and safer by providing light to each tooth. Of course, this light is not visible to the naked eye.
Artificial intelligence and 3D printing are two rapidly expanding technologies affecting all aspects of dental practice and will make dentistry an exciting field of study in the future.


3. Laser Technology

Dentistry used lasers first in 1960, but their use has exploded in the past couple of decades due to the increased number of research studies. There is a growing number of dental applications for lasers that are sure to improve the quality of patient care.
Lasers have soft tissue applications, including removing gingiva to expose a wisdom tooth, reshaping gingival tissue, removing muscle attachments that restrict tongue or lip function, and treating conditions such as aphthous ulcers.
Performing specific restorative procedures with lasers and without anesthetic are now possible. Advances in using lasers on hard tissue continue to bring dentists closer to the day when handpieces and anesthetic syringes will not be necessary. The use of lasers will only increase in the practice of dentistry due to their making procedures easier for the patient and the dentist.
4. Teledentistry

COVID-19 unexpectedly accelerated the practice of virtual dentistry in 2020. The United States military first used teledentistry in the 1990s to serve troops around the world. Dentists only recently recognized the value and enormous potential of this technology when the pandemic limited office visits emergency treatments.
Teledentistry improves access to care, especially for those living in rural environments. Mobile apps to aid dentists in diagnosis and triage will continue to be developed and help dentists provide high quality and convenient care to patients. Additionally, dentists can monitor a patient's post-operative healing and reduce costs and a patient's waiting time in the office. As mobile technology continues to advance, teledentistry will most certainly see expanded use to improve the quality of dental care delivery.
5. Aging population

The above trends and others all come at an opportune time because of the demographic shift toward an increased population of aged adults. The decade of the 2020s will see the number of Americans age 65 and older reach almost 20 percent of the population.
This population presents to dental offices with more existing restorations, missing teeth, and periodontal disease that require complex treatment than younger populations.
All the above technological advances will see widespread use by older adults. Whether it has 3D printed implant surgical guides, periodontal surgery using lasers, or a virtual dental exam, the aging population will enjoy superior oral care by the dentists of the future.