Categories
Recent Posts
Popular
Most Popular
5 Ways to Help Patients with Dental Anxiety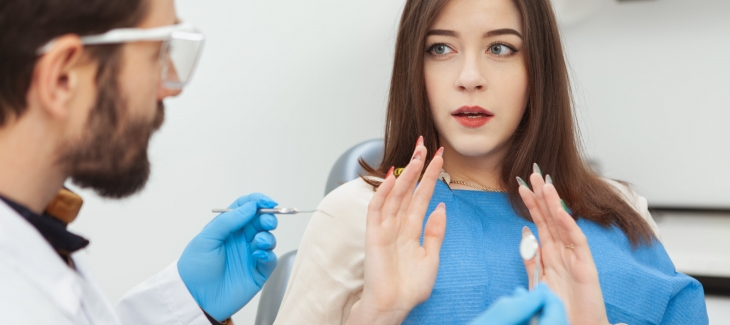 For some people, the courage to go to the dentist's office is the most challenging task in the world. They would rather suffer from an agonizing toothache than see the dentist. According to a research study published in the American Journal of Dental Hygiene, around
19 percent
of Americans suffer from moderate to high dental anxiety.
And it's not just about the perceived fear that dental treatment is painful. While some dental patients dread the needle or can't stand the sound of the dental drill, others are simply embarrassed about their oral health or afraid of keeping their mouth open for too long during lengthy procedures. Regardless of the reason behind their anxiety, avoiding or deferring dental treatment for minor dental issues can lead to more significant, more complex problems that require considerable time and financial investment.
So how can you help your patients overcome their dental fear? Here are five useful tips that you can follow to help your patients feel more relaxed:
1. Communication is Key
Patients with dental anxiety or phobias are more likely to mistrust dentists. Getting to know your patients, showing empathy, and taking time to listen to their problems can go a long way in establishing your rapport -- and reassuring them that you have their best interests in mind.
2. No Surprises
Fearful and skeptical patients hate surprises. They are more likely to be cooperative and relaxed when they have control over their treatment. One of the most effective methods in calming down patients is explaining the steps of their procedure and what instruments you will be using before starting their treatment. You can also show them that the instruments or equipment you will be using are safe and will not cause pain.
Another effective option is to agree on a "hand command." During treatment, if your patient gets extremely anxious and wants to pause their treatment, they can ask you to stop using the hand command. This will give them the reassurance they are in control of their treatment process.
3. Distraction
Talking to your patients regarding their work, family, hobbies, etc., is an excellent way of making your patients calm and relaxed. Unfortunately, it is not possible to have a conversation with your patients while you have dental instruments inside their mouths. However, you can still use other distractions. One of the best ways is soothing and relaxing music in the waiting area. According to a recent
research study
, patients with disabilities who listened to music for 10 minutes in the waiting room had significantly less anxiety during treatment.
You can also ask them to wear headphones to continue to listen to their favorite music and so they're not anxious by the sounds of the dental instruments. Most modern dental offices now also have televisions installed in the dental operatory so that the patients can enjoy a movie or television while you focus on fixing their teeth.

4. Comfort
When your dental team members greet every patient with smiling and welcoming words, your patients will already start feeling more comfortable and relaxed when they step into your office. Make sure your waiting area offers a comforting and soothing environment by hanging beautiful and soothing paintings, keeping an ambient room temperature, and placing books and magazines so that your patients can spend quality time while they wait for their appointment.

5. Sedation
For highly anxious or apprehensive patients who do not calm down despite all your efforts, the
American Dental Association
recommends treating them under sedation. Sedation is an excellent option for patients whose dental fear stems from a previous bad experience - as they won't remember the details of their treatment while they are under sedation.
Identifying your patients' specific dental fears and going the extra mile to help overcome them will go a long way to ensure optimal oral health and physical wellbeing. Don't let your patients suffer because of dental anxiety. Follow the simple tips given to make dental treatment a pleasurable, painless experience.